Natural Resources Institute Finland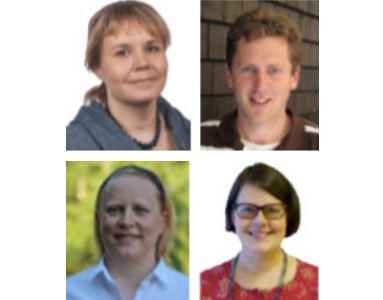 Saija Rasi is specialist in bioprocessing technology, energy production technology and biorefinery concepts. She has a wide experience on coordination international and national projects.  Rasi is a Finnish representative in IEA Bioenergy Task 37: Energy from biogas
Robert Prinz has over 10 years working experience in bioenergy sector. He has been working as a researcher and project manager in several large EU-funded projects mainly dealing with forest technology, forest energy and holistic supply chain design.
Erika Winquist has a strong knowledge on biomass processing in various biorefinery concepts including AD. In a recent project SUSTAg, she has developed economically feasible biogas production concepts for farm-scale using liquid cow manure and grass silage as raw materials.
Elina Virkkunen has about 10 years working experience in biogas production and research. She has been working as a project manager in several regional projects concerning farm-scale biogas plants and agroecological concepts.
Natural Resources Institute Finland (Luke) is a public research organisation. Researchers and specialists working in Luke provide new solutions towards the sustainable development of the Finnish bioeconomy and the promotion of new biobased businesses.
Saija Rasi is coordinating the Luke part of the work and provide the knowledge on renewable energy production in Finland and biogas expertise in general.
Together with Saija Rasi at Luke, Robert Prinz is working as project manager in HANDIHEAT and contributing to the project with knowledge on forest energy and related expertise.
Erika Winquist is working with "biogas calculator", which is one of the tools produced in the project. Erika will also participate on economic calculations on different case studies of the project.
Elina Virkkunen will participate the collection of information for "biogas calculator" and background information on energy systems in Finland.